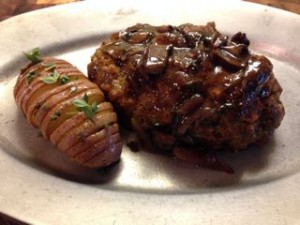 Yesterday I made the best meat loaf ever!
Now I understand that everyone who loves meatloaf has their own version. It's a dish,  like other comfort foods, which must be recreated the way we remember our mothers' made it. So some people like it wrapped in bacon, others prefer it drenched in tomato sauce or ketchup, some like it dense, others might prefer it permeated with onions. I've never, until now, created it to my liking so it's never really been a go to dinner for me.  But with the torrential rain, a roaring fire and a request from my husband for one of his favorite foods, I endeavored to create my version of meat loaf.  It was sooo good I'm sharing it with you.
I served the meat loaf with roasted potatoes that I sliced almost all the way through to create a fan look, rubbed them with olive oil, lemon thyme and sea salt and roasted them on a baking sheet. In the same oven as the potatoes  I roasted brussel sprouts that I tossed with olive oil and salt in a cast iron skillet.   They all took the same amount of time to cook which made the timing of the dinner perfect! I made the meat loaf in individual sized loaves primarily because my daughter is a genius and she thought they would be cute! She was right, they were.

Just a note the leaner the beef you buy the less fat the meatloaf sits in while it cooks. I placed the meatloaves on parchment paper while they cooked in a 350 degree oven.  The potatoes and brussel sprouts cooked at 400. Total cooking time for all 40 – 50 minutes depending on how accurate your oven is. Really a terrific meal…tonight meatloaf sandwiches on cracked wheat sourdough!
Furstman Family Meatloaf!
Ingredients:
3 lbs lean ground beef
1 tablespoon chopped, fresh chives, plus 1 teaspoon for the sauce
1 tablespoon chopped, fresh thyme leaves, plus 1 teaspoon for the sauce
1 tablespoon chopped, fresh Italian parsley, plus 1 teaspoon for the sauce
3 large eggs
1 1/3 cups finely ground Panko
1 T pesto
¼ c parmesan cheese
2/3 cup ricotta
1 teaspoon kosher salt
1 teaspoons freshly ground black pepper
Olive oil
1/2 lb sliced mushrooms
1 large onion diced
2 cups beef stock
3 cloves of garlic
1/2 c red wine
2 tablespoons butter, at room temperature
Directions:
Preheat the oven to 350 degrees.
Place the chives, thyme, parsley, eggs, Panko, ricotta, pesto, garlic, Parmesan, salt and pepper in a large mixing bowl.
Heat a medium saute pan over medium-high heat add 1 T olive oil and when the oil is hot add the onions to the pan and cook until lightly browned. Remove onion from the pan and let cool. When the mixture is cool, incorporate with the other ingredients.
Add the meat to the mixture and gently blend the ingredients until everything is evenly mixed together but don't mash it to pieces. Place a piece of parchment paper on a sheet pan. Shape the meat into a loaf. I like to make individual loafs about 5 inches by 3 inches. Place the sheet pan in the oven and bake 40 to 50. Remove the meatloaf from the oven and let it rest for 10 minutes.
While the meatloaf is cooking sauté 1/2 lb of sliced mushrooms in 2 T of butter until they are nicely browned on the edges. Deglaze the pan with 1/2 c of red wine and reduce it until almost nothing is left. Add the broth and simmer for about 10 to 15 minutes, or until lightly thickened. Add 1 teaspoon of each of the chopped thyme, chives and parsley. If you prefer the sauce thicker, sprinkle in 1 T of flour whisking as you add to avoid lumps.
Serve the meatloaf with a spoonful or two of the mushroom herb sauce.