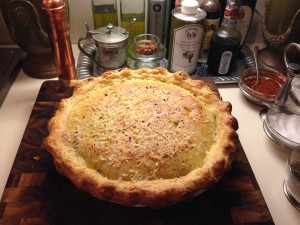 Made this Chicken Sausage, Porcini Mushroom, Lentil pie last night with a Pecorino Cheese Crust………looked and tasted terrific!
How it started…..I had a busy day planned and it didn't include a large chunk of time in the kitchen. But I really was feeling a savory pie. So while I was making the morning coffee I whipped out the food processor and made the crust in just a couple of minutes. Wrapped it in plastic wrap and popped it in the fridge for later that day.  While getting the dogs breakfast ready I put the lentils and the chicken sausage in a pot of chicken stock and simmered them together with a shallot for 25 minutes. Which was just enough time to get dressed before I went out the door.  Everything prepped for later in the day. Here's the recipe. It's so worth it.
Ingredients:
Filling
1 cup lentils
1/4 teaspoon salt
2 ounce dried porcini mushrooms
2 chicken sausage fennel sausages
2 tablespoons olive oil, divided
6 ounces fresh mushrooms, sliced
1 medium onion, chopped
1 shallot
2 carrots, diced
1 1/2 teaspoons dried sage
1/4 teaspoon dried thyme
1 cup chopped parsley
1 large garlic clove, minced
2 tablespoons all purpose flour
1 medium Yukon Gold potatoes, diced
2 teaspoons soy sauce
2 teaspoons Worcestershire sauce
1 tablespoon tomato paste
1 tablespoon sun dried tomatoes, chopped
Topping
1 cup plus 2 tablespoons all purpose flour
6 tablespoons yellow cornmeal
1 1/4 teaspoons baking powder
1/2 teaspoon salt
4 tablespoons chilled unsalted butter, diced
1/2 cup buttermilk
3/4 cup (packed) coarsely grated Soft Pecorino cheese (about 3 ounces)
Directions:
Filling:
Add lentils to pot and cover lentils with chicken stock 1". Add the two chicken fennel sausages, 1/2 t salt and a shallot; bring to boil. Reduce heat, cover, and simmer until lentils are tender, 25 to 30 minutes. Drain; set lentils and sausage aside. Or if you are prepping early pop it in the fridge.
Pour 1 cup of boiling chicken stock over porcini in medium bowl; soak 15 mins. Remove porcini from soaking liquid, chop coarsely. (Reserve soaking liquid.)
Heat 1 tablespoon oil in heavy large skillet over medium-high heat. Add fresh mushrooms. Sauté 3 minutes. Add 1 tablespoon oil, onion, carrot, sage, and thyme. Sauté 4 minutes. Add tomato paste and garlic; sauté 30 seconds.
Reduce heat to medium-low. Mix flour into vegetables; cook 1 minute. Add porcini soaking liquid and the remainder of the chicken stock.
Cover; simmer until potatoes are tender, stirring occasionally, 13 to 15 minutes. Add lentils; season with salt and pepper. Place the filling in a pie dish or 4 individual large ramekins. Let the mixture cool to room temperature before topping with the pie crust.
Do ahead. Can be made 2 days in advance Cover; chill. Bring to room temperature before continuing.
Crust:
Preheat oven to 400°F. Combine flour, cornmeal, baking powder, and salt in processor; blend 5 seconds. Add butter; pulse until mixture resembles coarse meal. Add buttermilk; pulse until dough forms moist clumps. Turn dough out onto lightly floured surface. Roll into a disc, cover with plastic and refrigerate for at least 20 mins.
Roll out the dough on a flour service and place on top of the pie dish with the filling. Crimp the edges. Slit the top of the pie 4 or 5 times. Egg wash the top and sprinkle some sea salt on the crust.
Bake pie on baking sheet until tester the crust is golden brown, about 30 minutes. Remember the filling is already cooked. If the edges get too brown wrap them with foil 20 mins into the cooking.