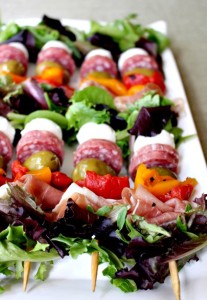 Thought this looked terrific for the Super Bowl!
Antipasto on a stick!
Ingrediants
1 – 7 oz container fresh or marinated mozzarella balls
8 oz. sliced prosciutto
½ lb. genoa salami, sliced thin
1 12 oz. jar roasted red peppers
1 6 oz container of marinated olives – the type you find in the olive bars @gourmet grocery stores
1 head of red leaf lettuce or arugula, buttery mache, whichever kind of leaf you like
If you want to drizzle them with olive oil and a little vinegar you can do that as well. Little tomatoes can be substituted for the red peppers or even added for more color.
Then just put them on the skewers arrange on a platter and enjoy the game! Can be prepared ahead of time covered with plastic wrap and refrigerated.  However allow them to come to room temperature before you serve them to get the best flavor from the cheese and prosciutto.